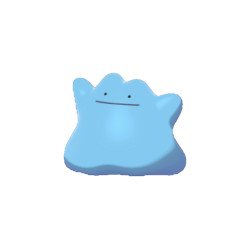 #132 Ditto
-Shiny
Searching for BDSP #132 Ditto of Pokemon BDSP? You have found the right place! PKMBuy.com is selling BDSP #132 Ditto at a low price. Once purchased, the customer service of the website will contact you quickly to conduct online delivery, be safe and secure, and the order will not be completed until you get the goods.
Name
Other Names
No.
Gender Ratio
Type
Ditto

Japan:
Metamon
メタモン
French:
Métamorph
German:
Ditto
Korean:
메타몽

| | |
| --- | --- |
| National: | #132 |
| Paldea: | #212 |

Ditto is Gender Unknown
Classification
Height
Weight
Capture Rate
Base Egg Steps
Transform Pokémon
1'00"
0.3m
8.8lbs
4.0kg
35
5,120
Abilities: Limber - Imposter (Hidden Ability)
Limber: The Pokémon cannot be Paralysed while having this ability.
Hidden Ability:
Imposter: When sent into battle, the Pokémon automatically transforms into a random opponent that is on the field.
Experience Growth
Base Happiness
Effort Values Earned
1,000,000 Points
Medium Fast
50
1 HP Point(s)

| | |
| --- | --- |
| Wild Hold Item | Egg Groups |
| | |
Flavor Text
Scarlet
Its transformation ability is perfect. However, if made to laugh, it can't maintain its disguise.
Violet
It can freely recombine its own cellular structure to transform into other life-forms.
Standard Level Up

Level
Attack Name
Type
Cat.
Att.
Acc.
PP
Effect %
—
Transform
--
101
10
--
The user transforms into a copy of the target, right down to having the same move set.
Stats

HP
Attack
Defense
Sp. Attack
Sp. Defense
Speed
Base Stats - Total: 288
48
48
48
48
48
48
Max Stats
Hindering Nature
Lv. 50
108 - 155
47 - 90
47 - 90
47 - 90
47 - 90
47 - 90
Lv. 100
206 - 300
90 - 175
90 - 175
90 - 175
90 - 175
90 - 175
Max Stats
Neutral Nature
Lv. 50
108 - 155
53 - 100
53 - 100
53 - 100
53 - 100
53 - 100
Lv. 100
206 - 300
101 - 195
101 - 195
101 - 195
101 - 195
101 - 195
Max Stats
Beneficial Nature
Lv. 50
108 - 155
58 - 110
58 - 110
58 - 110
58 - 110
58 - 110
Lv. 100
206 - 300
111 - 214
111 - 214
111 - 214
111 - 214
111 - 214
| | | | | |
| --- | --- | --- | --- | --- |
| Image | Name | Gender Ratio | Egg Group 1 | Egg Group 2 |
| | Ditto | Ditto is Genderless | Ditto | |
Ditto has no Egg Moves