Pokemon Scarlet and Violet to Feature Cinderace and Delibird in 7 Star Tera Raid Battle
Pokemon Scarlet and Pokemon Violet have some new events announced - notably the 7 Star Tera Raid with Cinderace and the slightly more standard Delibird.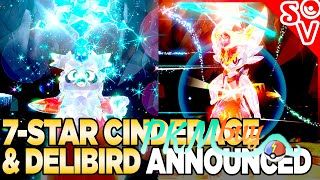 For Cinderace, the creature will have Fighting Tera Type and Mightiest Mark. This can be accessed as part of 7 Star Tera Raid Battles. Note that each save file can only be captured once.
For Delibird, it can be encountered in 1 to 5 star raids. Keep in mind that there is no fixed Tera type for these raids.
The Pokemon Scarlet and Pokemon Violet 7 Star Tera Raid Battle with Cinderace events will run from December 30, 2022 to January 15, 2023. The Tera Raid Battle with Delibird event is scheduled for December 23-December 25, 2022.
Players can look forward to more Tera Raid Battle events in the future. When they are active, they can fight specific Pokémon more often or encounter Pokémon with certain Tera types. When you missed the raid, you can come to PKMBuy.com if you want to buy Pokemon for Pokemon Scarlet and Violet.