Pokemon Scarlet and Violet Three starter Pokémon(Fuecoco, Sprigatito and Quaxly) Final Evolution
Pokemon Scarlet and Violet are basically completely leaked online, with various Pokemons, abilities, plot points, and more to be found in certain corners of the internet. This is full leak season, and The Pokemon Company and Game Freak will no doubt be doing everything in their power to get this information as soon as possible. The problem is it's everywhere, so anyone looking to avoid Pokemon Scarlet and Violet leaks should pay attention to social media. How would you choose Three starter Pokémon?
Many Pokemon fans may be wondering about the evolution of Fuecoco, Sprigatito, and Quaxly in Pokemon Scarlet and Violet. All three are available. Fuecoco evolved into Crocolar, which saw it grow larger, hunched over, gained more facial markings, and grew an egg and nest on its head, forming a wide-brimmed hat. Fuecoco's final form is called Skeledirge, and it sees the limbs on fire, with a new shade of red. Its mask is more complete, with flames coming from its mouth and a little bird flame sitting on its nose. It's fire/ghost and Sprigatito's line thinks it's ultimately grass/darkness. Sprigatito evolves into Floragata, then Meowscarada, a bipedal thief/magician-like Pokemon.
Quaxly's evolution leaks came later than these, but fans now know what to expect. It evolved into Quaxwell, with longer, awkward, teenage-like legs; dark blue accents, highlighted with light blue bits; and other more serious demeanor. It then evolved to fully adopt the fighting subspecies, becoming Quaquaval. Dark blue dominates Quaquaval's body, with shades of white and light blue, and a more carnival, dancer-like performance. Quaquaval is definitely a fighter with a focus on plenty of glam, as evidenced by its headgear and tail. For those who want to see Quaxwell and Quaquaval for themselves, check it out below.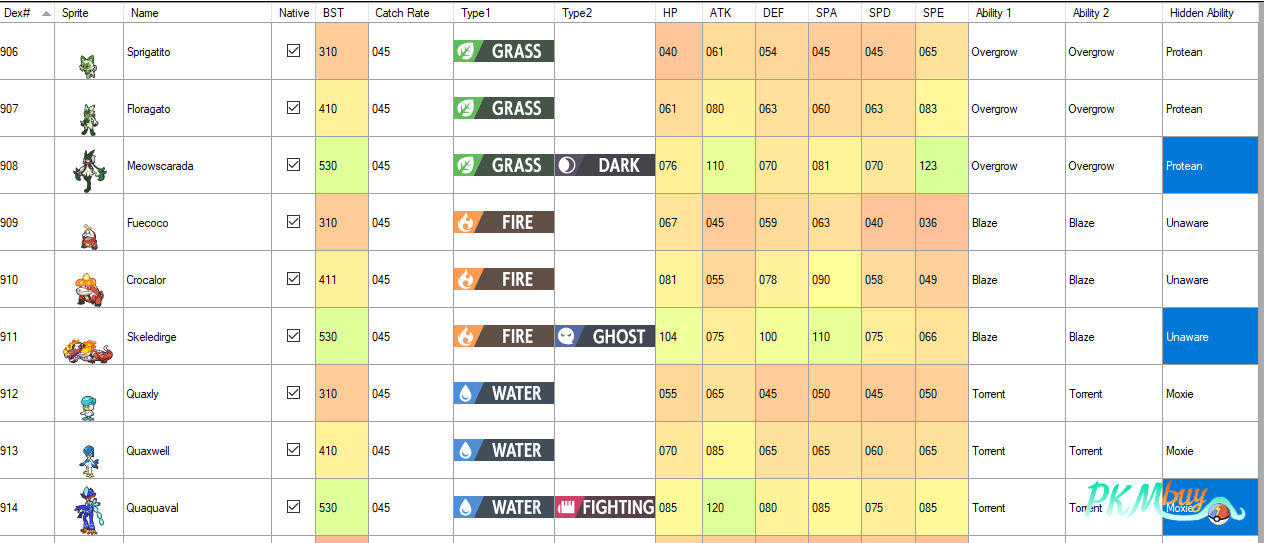 Quaxly
Midstage evolution: Quaxwell
Final Evolution: Quaquaval
Fuecoco
Midstage evolution: Crocolar
Final Evolution: Skeledirge
Sprigatito
Midstage evolution: Floragata
Final Evolution: Meowscarada
In fact, with the entire Paldean Pokedex leak of Pokemon Scarlet and Violet, there's something for any fan who wants to start planning their team. Paradox Pokemon, Legendary Quartet, Cross-Generation Evolution, and more all live in one place or another.
This is definitely unfortunate for the developers of Game Freak and those who want to blindly enter, after all, there is already so much stuff. However, given that Pokemon Scarlet and Violet's release date is still a few days away, hopefully, those who don't want to see it yet can avoid it.
Whether it's Gen 8 or Gen 9, PKMBuy.com is always online for you. You can buy Pokemon Scarlet Violet Terastal Pokemon at PKMBuy , and specific Scarlet and Violet items will be confirmed after launch.